New partnership puts the local into Global in powerful alliance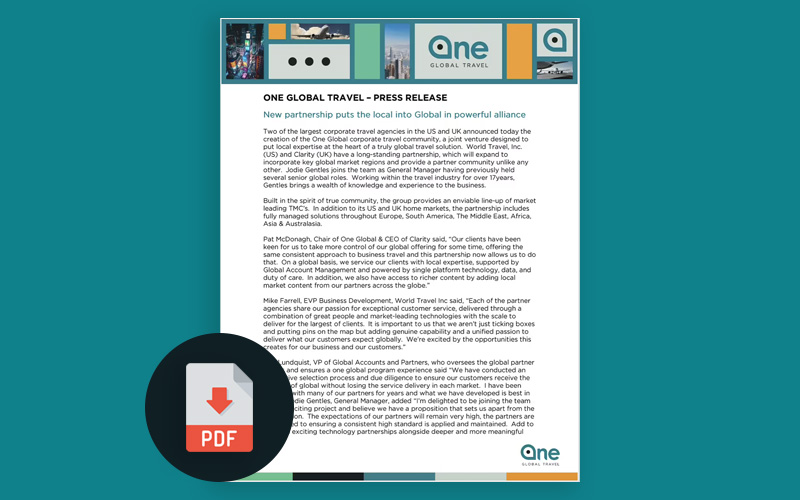 Two of the largest corporate travel agencies in the US and UK announced today the creation of the One Global corporate travel community, a joint venture designed to put local expertise at the heart of a truly global travel solution. World Travel, Inc. (US) and Clarity (UK) have a long-standing partnership, which will expand to incorporate key global market regions and provide a partner community unlike any other. Jodie Gentles joins the team as General Manager having previously held several senior global roles. Working within the travel industry for over 17years, Gentles brings a wealth of knowledge and experience to the business.
Built in the spirit of true community, the group provides an enviable line-up of market leading T MC's. In addition to its US and UK home markets, the partnership includes fully managed solutions throughout Europe, South America, The Middle East, Africa, Asia & Australasia.
Pat McDonagh, Chair of One Global & CEO of Clarity said, "Our clients have been keen for us to take more control of our global offering for some time, offering the same consistent approach to business travel and this partnership now allows us to do that. On a global basis, we service our clients with local expertise, supported by Global Account Management and powered by single platform technology, data, and duty of care. In addition, we also have access to richer content by adding local market content from our partners across the globe."
Mike Farrell, EVP Business Development, World Travel Inc said, "Each of the partner agencies share our passion for exceptional customer service, delivered through a combination of great people and market-leading technologies with the scale to deliver for the largest of clients. It is important to us that we aren't just ticking boxes and putting pins on the map but adding genuine capability and a unified passion to deliver what our customers expect globally. We're excited by the opportunities this creates for our business and our customers."
Lisa Lundquist, VP of Global Accounts and Partners, who oversees the global partner offices and ensures a one global program experience said "We have conducted an exhaustive selection process and due diligence to ensure our customers receive the benefits of global without losing the service delivery in each market. I have been working with many of our partners for years and what we have developed is best in class." Jodie Gentles, General Manager, added "I'm delighted to be joining the team on this exciting project and believe we have a proposition that sets us apart from the competition. The expectations of our partners will remain very high, the partners are committed to ensuring a consistent high standard is applied and maintained. Add to that, the exciting technology partnerships alongside deeper and more meaningful collaboration empowers us to take our business and customer programs to the next level."
The community partners work collaboratively in all areas of business from Sales Development through Implementation, Account Management and Business Process Improvement. Innovative global technologies are deployed to ensure that technology and processes are consistent where it matters, and local expertise is deployed where it counts. Gentles continues "We have created something truly special here. I know this will resonate with customers who are tired of a lack of consistency in the network models and feel undervalued by the global mega agencies. We have combined a world class line-up of the very best partners and game-changing technologies, with the backing of two committed investors with significant global experience." Gentles adds, "This concept is similar to airline alliances where the best in market carriers provide seamless transport throughout the world. Over the last two years especially, phrases like better together have resonated throughout the world. It only makes sense to eliminate the barriers of networks and mega agencies and cultivate a global community whereby everyone wins!"
One Global is set to announce several key strategic technology and commercial partnerships over the coming months. Gentles concludes "There's some exciting news to come as we further strengthen our line up and proposition."
Notes to Editors:
World Travel, Inc.
World Travel, Inc. is a global mid-market leader in corporate travel management. As the largest organically grown T MC in the United States, it has grown steadily and sustainably over the past 39 years.
World Travel, Inc. is 100% employee-owned and entirely focused on providing clients with superior service, state-of-the-art technology, consulting services, and customization.
For more information, visit www.worldtravelinc.com.

Clarity Business Travel
Based in Manchester with offices throughout the UK and Europe, and over 300 staff, Clarity is one of the largest business travel and events agencies in the UK.
Managing over 2 million trips a year, our easy to use, agile, and straightforward solution, makes us a popular choice for all sectors inc. Professional Services, Infrastructure, Construction, Engineering, Elite Sports, Higher Education, Charity and NGOs, Retail, and the Public Sector.
With our membership to the Institute of Customer Service, combined with the strictest levels of data security, range of risk measures and approval, and our commitment to helping you achieve Net Zero through our carbon literacy programs – you couldn't be in safer hands.
Thank You